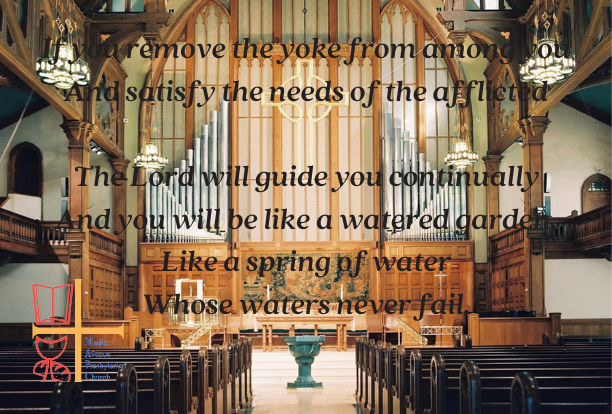 Stewardship at Madison Avenue Presbyterian Church is really about discipleship—following Jesus as Lord in every aspect of our daily living. Stewards are those who care for things that belong to another and have been entrusted to them for safe-keeping. Christian stewardship begins with the recognition that everything in our lives comes from and belongs to God and has been given to us for the purpose of not only serving, but more important, glorifying God as we seek to follow Jesus Christ as his faithful disciples. Christian stewardship begins with worship and the time we give to it, but also includes other ways we care for and use our faith, our bodies, our health, our time, our talents, our relationships and our wealth. We believe that investing ourselves in Christ's church through worship, work, fellowship and ministries, is critical to growing in discipleship and developing a mature and vital faith.
Support MAPC by giving online:

View our Invitation to the 2021 Campaign here.
Notes
1. Includes pastoral and church administrative staff, does not include Day School and NYCCC teachers and staff.
2. Cost of running and maintaining the Church and Sanctuary, the Church House Building and the Phillips Building, including the building maintenance staff.
3. Administrative overhead expenses including per capita denomination fees, audit, legal, payroll, technology, office equipment, supplies and communications.
4. Revenue from the Day School and NYCCC for use of the buildings and Church administration services.
5. Income from Board and Donor restricted funds that support Outreach Ministries and the Global Ministry Fellowship programs.